19.02.17 Home sweet home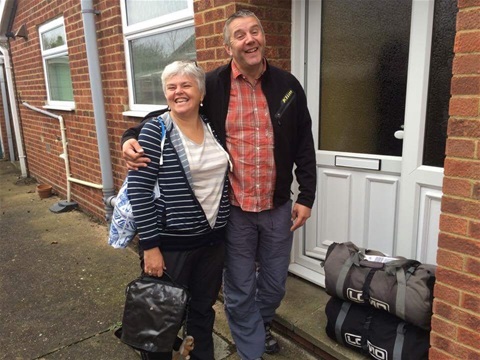 19.02.17 Home sweet home
We found ourselves awake at 5.30 on our last day in South America, excited to be going home after this mammoth time away.
I felt that I had one foot still firmly in the trip, and another at home. I was feeling desperate to see everyone that I've missed so much, especially now my mind is so much in home mode.
On our last night we went out with Marc, the Canadian guy we met on Ruta 3 at the beginning of last week. It was a good evening, he has spent a lot of time in Buenos Aires and took us on a short walking tour, before we arrived at a good steak restaurant he knew.
Patrick had decided to have an early night after he had enjoyed his daily two scotches, so we missed him on our last night. Patrick has become a great friend this last few weeks, and we shall miss his wonderful French humour (full of teasing to us Brits). He helped to make our last days in South America more enjoyable, and we hugely admire his spirit and love of life. It must be tempting when given a diagnosis of lung cancer to want to stay safe at home, but Patrick kept himself going all throughout his treatment and removal of a lung by dreaming of his trip to Central and South America, and then when he could turning it into a reality. His wish to see a penguin became legendary........ We truly hope to meet up again when Patrick comes to Europe in the summer.
Our bike and sidecar like us left on Thursday, and will be taking a circuitous route to London Heathrow airport, as it will be flying to Canada first. So we understand it should be arriving in London today. Motofreight, the shippers we used when leaving for the US, back in June will collect it for us, and then when it's ready we can visit their warehouse to go and bring it home. After that we shall have to give our trusty steed some loving care, a service, new chain, new tyres that sort of thing. But, we can safely say it's done us hugely proud over the 32,000 miles we've ridden together in the last year.
We were able to change our flights from Saturday to Thursday, and so arrived back in the UK on Friday morning. I hadn't told my Mum that we'd changed, and was able to surprise her, which she seemed to enjoy. Nick and Jane, our very good friends, who visited us in Canada 6 months ago were at the airport to collect us, and whisked us home to enjoy the things we've been dreaming of for a while now:
Bacon sandwiches
Ham sandwiches (Paul!)
Fish and Chips
Proper cups of tea
And a proper daily dose of healthy fruit and veg, something we've found it difficult to live without, especially over the last six weeks in Argentina. No more SPAM!
It remains for me to sign off now. I've enjoyed keeping our daily diary and we really hope you've enjoyed coming along with us, thank you for taking your time to read it............